Case Study - P&G
Client:
P&G
Campaign:
Video Couponing within Facebook and Contextual Ads






We were initially challenged by P&G to integrate LinkTo technology into its existing Coupons.com couponing system to encourage viewers to click to print money-off coupons to redeem offline in-store.
The initial campaign ran in the Febreze UK Facebook page using existing branded videos, embedded from YouTube. It resulted in a 92% increase compared to P&G coupon engagement benchmarks. When posted in the Febreze UK Facebook timeline, (see screen capture video below showing how the process works – please note, this has no sound) clicks to print a coupon reached over 50% of views, a record high for any pilot campaign.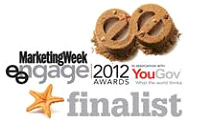 The activity was so successful, it was shortlisted as Brand Innovator of the Year with Marketing Week and P&G's Innovations Team said "This has been one of the most successful pilots to be tested in the Innovations team over the past couple of years. The functionality optimises existing properties to drive trial, which is a core objective of ours, and furthermore is scalable across our portfolio."
LinkTo was has since be used by other P&G brands including Fairy, where print out rates of coupons reached 67% of views, and of those, over 55% went on to redeem their coupons in-store.
P&G have since used LinkTo to create multi-page forms within their videos to drive registrations to their Supersavvyme portal (see video for Venus below)
Our most recent project for P&G was to incorporate LinkTo into their contextual advertising, working with Virbant Media (see screenshot below)